Wrist watch mobile phone maker company enters in Indian market
New Delhi, Sat, 14 Apr 2012
NI Wire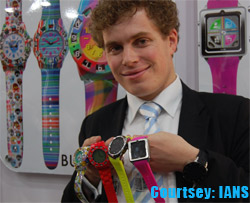 Taking a leapfrog from Europe to India, a Netherland based wrist watch mobile phone making company on Friday has put its first step in India by opening its three outlets in capital and capital region and launching its some models to attract customers.
A Netherland-based company Burg that manufactures innovative wrist watch mobile phone Friday launched its five models Burg 9, Burg 10, Burg 11, Burg 12 and Burg 13 in Delhi and Gurgaon outlets.
The price of the launched ranges between Rs.9,000 to Rs.24,000.
Describing the features of Burg's product, Company's global sales director Koen Pieters said that these wrist watch mobile phone is equipped with all features of mobile phones and wrist watch.
Using their device, you can make and receive phone calls, send and receive SMS, access internet, take snapshots from its camera, do video recording and all those which a modern smart phone contains, he said.
Moreover, the features of bluetooth, image viewer and file manager are also included in it.
Koen also informed that company, which is now targeting to open 20 outlets in India across the country viewing its rich and broad market.
"India is emerging as one of the key market for technology products as India's expanding economy and rising disposable incomes are fostering demands for such gadgets," Koen Pieters said.
"India is the next focus destination for Burg in its global road map. We will keep introducing our wide range of futuristic products for Indian consumers at their door steps," he added.
Burg already has significant presence in Italy, Germany, Russia, Mexico, United States of America, Spain, Chile, Venezuela, Norway and Switzerland.
--With Agencies Inputs--