Shahrukh Khan Mocks America at Yale Crowds after 'detention'
New York, Fri, 13 Apr 2012
NI Wire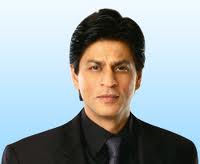 'Bollywood Baadshah' and 'King Khan' Shahrukh Khan who is a known for his humour and quick-wittiness cracked jokes on America while addressing to students at Yale University after getting freed from White Plain airport where US immigration officers have stopped him for interrogation. They interrogate him for over two hours.
Shahrukh Khan, who was scheduled to reach to Yale University in the afternoon, could reach there after a long waiting of three hours. His fans were eagerly waiting for him outside of Shubert Theatre. Shahrukh came there to receiving a Chubb Fellow, one of its top honours of Yale University.
While addressing to students after receiving the honour, Shahrukh is believed to crack jokes. "I was detained again for an hour and a half. Every time I feel like a star, I come to America to feel grounded."
"They (immigration officials) always ask me how tall I am and I always lie and say 5 feet 10 inches. Next time I am going to get more adventurous. (If they ask me) What colour are you, I am going to say white," said Shahrukh.
Earlier, after reaching to Yale University, Khan was introduced by Isha Ambani, daughter of Mukesh and Tina Ambani who is a student here and president of the South Asian Society at Yale.
Nita Ambani was also present there and it was believed she arrived there along with Shahrukh Khan and others in a private aircraft.
As part of the Yale Chubb Fellowship, Khan attended a reception and dinner at Timothy Dwight College with over 120 Yale students including members of the South Asian Society at Yale, fellows of Timothy Dwight, and other members of the Yale community.
Each year three or four distinguished men and women have been appointed as visiting Chubb Fellows. Former Chubb Fellows include presidents George W. Bush, Ronald Reagan, and Jimmy Carter; authors Octavio Paz, Carlos Fuentes, and Toni Morrison; filmmaker Sofia Coppola; architect Frank Gehry; choreographer Mikhail Baryshnikov; and journalist Walter Cronkite.
--With IANS Inputs--