Nagaland scientists produce world's first 'mithun' calf through ETT
Kohima, Fri, 13 Apr 2012
NI Wire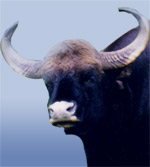 In a major breakthrough, the researches of Nagaland have achieved a landmark by producing the world's first ever mithun (the domestic form of wild bull Gaur) calf through Embryo Transfer Technology (ETT) - process of removing embryos from a female and placing them in another, the surrogate mother, where they develop. The surrogate mother gives birth to an offspring that is genetically unrelated.
Using this technology, scientists across the world have already produced pigs, cattle, horses, buffaloes and yaks.
A team of Nagaland scientists led by Dr Kishore Kumar Baruah along with Dr Mohan Mondal, Dr Chandan Rajkhowa and several others at National Research Centre (NRC) have successfully used this technology in conceiving the 'mithun' embryo that was born on March 27.
Scientists have given his name "Bharat".
Bharat is the result of Nagaland Scientists' five-year efforts and the entire project cost below Rs.10-lakh.
"For the last five years we are working on this project. We have tried this ETT on seven different occasions and today we have succeeded," said Bhaskar Bora, research associate, NRC-Mithun.
The team is hopeful of getting three more mithun calves soon through this technology.
--With ANI Inputs--