BJP is hiding its failures in MCD: Sibbal
new delhi, Fri, 13 Apr 2012
NI Wire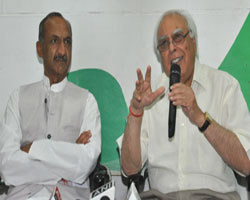 Union Minister of HRD and Telecommunication Kapil Sibbal said that the BJP's fiveyear stint in the MCD has been a disaster. The party has no visible achievements to showcase during the past five years. That is the reason why BJP has unconvincingly tried to raise the issue of corruption.
The BJP knows full well that its five-year rule heading the MCD has been mired with instances of corrupt practices. The whole country is aware of the BJP's often-repeated sham of taking the issue of corruption very seriously.
The party's hypocrisy on the issue repeatedly stands exposed when its own party men are involved. This happened during the NDA tenure at the Centre and this is happening in the states ruled by the BJP. It is apparent that by raising the issue of corruption, the BJP's ploy is to side-step the real issues and deflect attention from its failure to provide the citizens of Delhi an efficient municipal corporation. The people are disillusioned by the gross neglect and pathetic condition of the municipal services in Delhi.
On the occasion Delhi State Congress Committee president Jai Prakash Agarwal, said that in the coming MCD elections, the BJP will suffer a humiliating defeat as the voters were well aware of its corruption and incompetence during the last five years of rule in the MCD, and BJP will be thrown out of power this time. He said the misrule of the BJP in the MCD for the past five years will not be forgotten by the people of Delhi in a hurry, as it was a rule beset with corruption and scandals.