BJP criticise Congress for its corruption and inefficiency
new delhi, Fri, 13 Apr 2012
NI Wire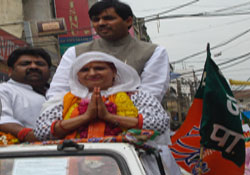 On the last day of election campaign for the MCD election, BJP blamed the Congress Party for its corrupt, inefficient, anti people and fueling price rise issues. BJP Delhi Pradesh President Shri Vijender Gupta and Chairman of the Election Management Committee Prof. Vijay Kumar Malhotra told that there is wave in favour of BJP in entire Delhi.
Party will make new record by winning more than 200 seats. The people of Delhi are fully ready to teach the Congress Party a lesson, which is responsible for imposition of taxes, price rise etc. The acrimony of the people will be expressed by vote in favour of BJP candidates on 15th April.
Both the leaders told that BJP has aggressively campaigned for winning all the three Corporations. Congress was on the defensive because it had nothing to promise.
Shri Vijender Gupta and Prof. Malhotra told that the mood in Delhi is to rout the Congress in Delhi. Now the election campaign to MCD has become a public movement. In view of its certain defeat the Congress Party has started making wild allegation against BJP. The workers of the BJP have apprised the people of Delhi about the corruption of Congress.
The people of Delhi want to get rid of Congress, which is responsible for price spiral and is adding insult to injury of the people. BJP is ready to implement the vision document 2025. The people of Delhi should make BJP victorious in MCD elections this time, assembly elections in 2013 and Lok Sabha elections 2014 so that BJP may build India of the dreams of crores of Indians.