Freida Pinto says acting has been her passion since childhood
New Delhi, Fri, 13 Apr 2012
NI Wire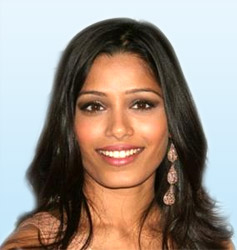 Slumdog Millionaire actress Freida Pinto has said that she has been passionate about acting and said that she always wanted to be a performer, even when she was a child.
The 27 year old actress has said this in an interview with Nylon magazine. This magazine has chosen Freida Pinto to pose for its cover.
The actress had also revealed that she'd dance for her family at their kitchen table and say: "Time to present!' I'd sing, I'd dance - I'd just put on a solo show like a schizo, playing all the characters."
The actress presently residing in Los Angeles, also said that she wants to play an array of ethnicities on the big screen.
"Sometimes I get attacked for wanting to not just be an 'Indian Actress.' It's funny because I think a British actor can play an American or an Australian or French.
"But when I try and play roles where I could physically fit into that character, but maybe I'm not from that country, people are like, 'Wait, why is an Indian actress playing that?' But why not, you know?" she has been quoted as saying.
The gorgeous actress dressed in a fun ensemble for the magazine's 13th anniversary party in West Hollywood tonight.
Pinto put behind her typical glamour girl look in favor of a short, kitschy dress.
Her dress comprises a pale grey top with a pink band in the middle and a yellow skirt with an old-fashioned truck decal.
--with inputs from ANI