Mike Tyson doesn't like the angry person he was formerly
New Delhi, Fri, 13 Apr 2012
NI Wire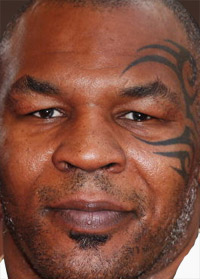 Former Heavyweight champion Mike Tyson has accepted that he was very angry in his youth and doesn't like the person he was then.
The aggressive r boxing champion said that he does not see the footage of the night in 1986 when he ruined Trevor Berbick at the Las Vegas Hilton and sent him stumbling round the ring like a drunk.
"No way," Tyson says, while commenting about his former self.
"I never watch any of those fights now. If I met that young guy right now, I know he wouldn't be nice to me. I don't like the person I was back then," Mirror quoted Tyson as saying.
"He had no reason to be so angry. All that money and he still wanted to be angry. I should have been a little kid having fun.
"I want to stay away from that place where I was. I had to be that frightening person to reach the top.
"Looking back, I suppose I had to make people frightened of me because I was an insecure kid," he said.
--with inputs from ANI