HTC one X: The fastest camera mobile
New Delhi, Thu, 12 Apr 2012
NI Wire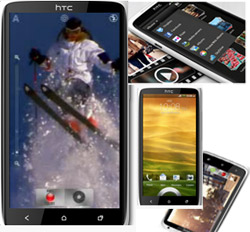 The latest HTC one X model is now present with many salient features, which are enough to attract people. Its gorgeous unibody design, brilliant 4.7 inch 720 super LCD2 HD display, 8 megapixel camera with 1080 p video recording…just you can say a super model with a fastest mobile camera which is enough to hold your eye.
The gorgeous look of the HTC one X model is now rock in the country with its various features and especially its design. The entire phone's surface is consists of two parts which are the polycarbonate shell and the Gorilla Glass at the front. However due to making of one single block of plastic it feel very strong, yet it has some disadvantage like removing the battery will not be easy due to this.
Apart from this, the Gorilla Glass sits a stunning 1280x720 resolution IPS LCD. Its high pixel density makes the display look very sharp. Also its bright colours attract which looks like very cute and gorgeous. The large size of the display makes the phone pretty large and we found it rather difficult to use it single handedly.
Not only its attractive look is important but Hardware part of the phone is also solid and strong. HCT one X consists with a 1.5 GHz Nvidia Tegra 3 processor and uses new 4-Plus-1 configurations where the CPU has four performance cores and one companions cores. Model also consists with a 12 core GeForce GPU for 3D applications and games, which provide maximum facilities to the users. Apart from these there is a 1GB of RAM and 32 GB of internal memory which 25GB can be seen when device is mounted on the PC.
On the software front too the phone is highly equipped with latest technology. Phone consists with Android 4.0.3 with sense 4.0. It is noted that Sense 4.0 provide us much lighter and cuts down on a lot of the animations such as the spinning home screens when you decide to do a quick swipe.
In fact HTC has tried its best to differentiate its phone with the other Android phone out there. And if we consider the performance then there is no doubt that HTC has offer an option for people to choose if it must put Sense on its phones. Its performance is really good where everything from scrolling through the home screens and opening and switching between apps being really quick.
Lastly it must be in our mind that for this model speed of the camera is important rather than the outright image quality. Now all the processes in which start the camera app to the focussing speed and the time taken to save the image the whole process can be change in easy and HTC has made it easy by image processor calls Image Sense.