Maoists freed Italian citizen Bosusco after Panda's wife release, sources say
Bhubaneshwar, Thu, 12 Apr 2012
NI Wire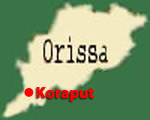 Maoists on Wednesday night have reportedly freed the second abducted Italian citizen Bosusco Paolo, who was kidnapped on March 14 along with another Italian tourist Claudio Colangelo from Kandhmal district of Orissa when they were on their trekking mission.
According to media reports, Maoists became ready to release Bosusco when Maoists leader Sabyasachi Panda's wife Subhrashee Das Panda was released. A district court on Tuesday acquitted her from 2003 murder case.
Maoists have already released 61-year old Claudio due to his bad health condition, report said.
However, Maoists are stick on their 13-point demands and also add another point in the list of their demand as they are also asking to release Aarti Manjhi, a tribal lady.
Maoists have still not broken his silence over abducted Biju Janta Dal leader Jhina Hikaka, who was kidnapped on March 25 from Koraput district when he was returning to his home.
Meanwhile, the released Maoist leader wife Subhrashee Das Panda has denounced the decision of Maoists to abduct foreign citizen in exchange of Maoists. She said, "Foreigners are our guests and we should not kidnapped them in exchange to release our leaders."
She however denied that government has set released her. "The court has acquitted me as the case was baseless, not the government. If government really wanted me to release, why did it issue a warrant against me."
"Government is adopting dual policy," she accused.
--With Agencies Input--