MCD: BJP not fulfils even a single promise, Congress says
New Delhi, Thu, 12 Apr 2012
NI Wire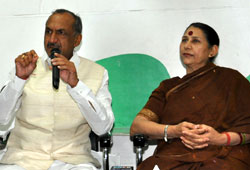 Delhi Pradesh Congress Committee (DPCC) president Jai Prakash Agarwal said that promises made by the BJP during the MCD elections in 2007, were not fulfilled, not even a single promise. BJP had promised in 2007 that special schemes would be made for the old, helpless, widows, handicapped, orphaned children and women so that they could live their life in respect and dignity, and get them relief. But after coming to power in the MCD, the BJP forgot about giving relief to these helpless people, and women and children also did not get any benefit or relief.
Agarwal said the BJP had announced in 2007 that a special scheme would be introduced for ex-Servicemen to enable them to live their retired life in dignity and comfort, and also special concessions in corporation tax. But after coming to power, the BJP forgot all about its promises of giving a better deal and concessions to the ex-Servicemen.
The BJP also promised that for senior citizens' care and entertainment, Senior Citizens Homes would be constructed in every ward, but this promise also remained on paper as no facility was extended to senior citizens. The BJP had also promised that in the entire Delhi, night shelters would be constructed for the benefit of the homeless, but this promise was also not kept as not a single night shelter was built during the BJP's five-year rule in the MCD, leaving the homeless to sleep in the open at the mercy of the weather, whether it was hot or cold.