Adarsh Society probes: Interim report likely to submit soon
Mumbai, Thu, 12 Apr 2012
NI Wire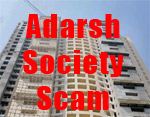 The interim report relating to the Adarsh Society scam is likely to submit to the Maharashtra govt. on Friday. Report has been prepared by two-member commission, which has investigated the Adarsh Society scam, which was originally meant for war heroes, and Kargil widows. Report would be submitted on Friday but it is not clear that when it will be tabled on the state legislature.
It is noted that a two-member committee comprising with retired Justice J.A. Patil and former state chief secretary P. Subrahmanyam will give its final findings on two critical issues.
Commission has to investigate related ownership of the plot of land in Colaba allotted to Adrash and whether it was meant for housing war heroes and Kargil widows.
Commission had directed all the concerned parties to complete their arguments by mid March. The concerned parties are the ministries of defence, environment and forests, state government, Mumbai Metropolitan Region Development Authority and the Adarsh society members.
Regarding the possession of the land,the state government had claimed ownership of the same and said that it was reclaimed in the 1970s.
It is noted that the defence ministry contended that the plot allotted to Adarsh had been in its possession for four decades.
It has been alleged that apartments is the society were allotted to top officials and relatives of politicians and they were not entitled for the same.
(With inputs from IANS)