Cabinet approves a bill that made marriage registration mandatory
New Delhi, Thu, 12 Apr 2012
NI Wire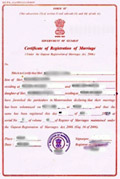 Giving the strength to the marriage institution, the Union Cabinet on Thursday approved a bill that makes the registration of marriage mandatory.
The reformed bill had also a provision of not mentioning the religion of both the parties, which has also been cleared. Now, those, who want to get inter-faith marriage, can do it without any pressure from society.
The Union Cabinet on Thursday approved a proposal, which makes the registration of marriages mandatory in the country.
According to reports, the Cabinet approved a bill that has a provision to makes registration of marriage mandatory if it happens under the Hindu Marriage Act 1955.
The cabinet also cleared the proposal put forward by the Union Law Ministry, which says the registration of marriages in India can be carried on without divulging the religion of the parties concerned.
The Law Ministry had earlier proposed an amendment to reform the existing Births and Deaths Registration Act, 1969.
Ministry officials contended that making registration of marriages religion neutral would also help those facing social and community pressures for having married according to their wishes.
While those who desire to register their marriage under the Hindu Marriage Act face no rejection, those marrying outside their religions have the benefit of registering under the Special Marriage Act.
Last month, the Union Cabinet approved various proposals seeking amendments in the Hindu Marriage Act of 1955 and Special Marriage Act of 1954.
--With Agencies Inputs--