Battered baby Afreen dies due to cardiac arrest: Media reports
Bangalore, Wed, 11 Apr 2012
NI Wire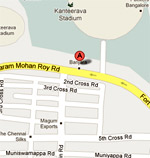 Three-month-old baby Afreen, who was allegedly beaten and abused by her father, died today in the hospital due to reportedly cardiac arrest, media reports say. Baby Afreen was admitted to Bangalore's Vani Vilas hospital on Sunday when she had multiple injury on her body and head and there were several spots of cigarette burns on her head.
According to hospital's doctors, a massive cardiac arrest occurred to baby Afreen at 10:40 a.m. today and she died within half-an-hour despite doctors' all efforts to revive her lifeline.
According to Professor of Paediatrics at Vani Vilas Hospital R Premalatha, 'Multiple convulsions could have led to the cardiac arrest.'
Doctors have also informed that due to her continuous worsening condition, hospital took the help of National Institute of Mental Health and Neuro Sciences (NIMHANS) on Tuesday, but the joint efforts of the doctors too could not save her life.
This is the second such case that was highlighted in media in last six months. Earlier, in All India Institute of Medical Sciences (AIIMS), New Delhi, another battered baby girl Falak was admitted on January 18, 2012 with severe injuries on her body and head. She too died on March 15, 2012 after marathon efforts of doctors.
The continuous deaths of two most highlighted cases of girl baby has emerged a new debates in India over the present condition of women in India.
According to baby Afreen's mother Reshma, Afreen's father Umar Farooq wanted a boy child and after the delivering a girl child, he started torturing and abusing Afreen.
Reshma wanted highest degree of punishment to her husband, who is already in jail for alleged violence and abusing to his own baby.
--With Agencies Inputs--