Narendra Modi gets clean chit in Gulberg massacre
Ahmedabad, Wed, 11 Apr 2012
NI Wire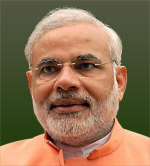 Now there is a big relief for Gujarat Chief Minister Narendra Modi as the special panel probing the 2002 Gujarat riots has gave a clean chit to him. Magistrate has said in his order that investigators have found no evidence against the accused for the involvement in Gulbers society case including Modi. BJP has said that now the vilification campaign against him should be stop whereas Congress has said that there was proof enough of the killings during the riots.
It is noted that Zakia Jafri, wife of the slain former Congress MP Ehsaan Jafri, who was killed by a rioting mob at the Gulberg housing society, had alleged that during the riots her husband had called police and offices for the assistance but no one come forward to help them. She had accused Narendra Modi and senior officer for their negligence and for the conspiracy during the riot.
The matter was before the Metropolitan Magistrate M.S. Bhatt who was hearing the case. It is noted that the closure report was submitted to him by SIT in February and he said in his order that the investigators have found no evidence against any of the accused, including Modi, in the 2002 Gulberg Society massacre, one of the cases related to the widespread riots 10 years ago.
The court also asked the probe panel to give a copy of the report to Zakia Jafri within 30 days, which is when the SIT report will become fully public.
BJP has expressed its triumph on the decision of the court. Leader of opposition in Loksabha Sushma Swaraj has twitted that now the vilification campaign must stop against him. No evidence against Mode and it is a big relief.
On the other side commenting on the issues, Congress general secretary B.K. Hari Prasad said that the fact that around 3,000 people died in the communal riots needs no proof.
(With inputs from IANS)