MCD election: Congress blames BJP for mismanagement
New Delhi, Wed, 11 Apr 2012
NI Wire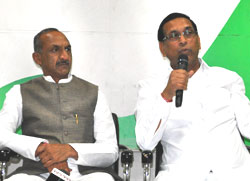 Delhi Pradesh Congress Committee (DPCC) president Shri Jai Prakash Agarwal, MP said here today that during the past five years, the BJP leadersseemed to have taken a vow that they would only rob the coffers of the Municipal Corporation of Delhi (MCD) and do nothing for the progress and welfare of the people.
Agarwal said he was surprised to note that last year, the MCD received Rs 120 crores from various agencies for road cutting/digging, but the MCD authorities could only spent Rs 20 crore while Rs 100 crore were not utilized at all. Agarwal said various agencies deposit money in advance with the MCD for road cutting/digging, and despite such agencies completing their works and with budget for such works at its disposal, the MCD could not undertake the job of cutting the roads.
Agarwal said due to the incompetence and inefficiency of the BJP, the roads are broken and the streets are full of potholes in most of the areas, and the common people are suffering the most due to the corruption and inefficiency of the BJP in the MCD, though their leaders are least bothered about the plight and suffering of the people.
PWD Minister Delhi govt. Raj kumar Chauhan alleged BJP that it has done nothing for the betterment of the roads in Delhi. He said that PWD has acquired 617 km of the roads from MCD because it was unable to maintain the same. PWD has made 75 flyovers and three are under construction where flyover is under pipeline. Delhi govt. is all set to provide Signature Bridge and other project, which costs more than 2200 cr.