India, Qatar joins hands in oil and gas field
New Delhi, Tue, 10 Apr 2012
NI Wire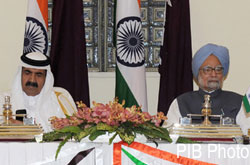 India and Qatar signed up many important agreements in various areas including an overarching pact on cooperation in oil and gas exploration. Apart from this, issues related to Indian workers in the Gulf area were also discussed between India Prime Minister Manmohan Singh and Qatar's Emir Sheikh Hamad bin Khalifa al-Thani who is on the three day visit of India.
During discussion it has been cleared that India is interested to export more oil land LNG from Qatar and other side is broadly positive towards the Indian proposal however pricing issues are yet to be discussed. India's Petroleum Minister S. Jaipal Reddy and Qatar's Energy Minister Mohammed Bin Saleh al-Sada signed a pact on establishing a cooperative framework to enhance bilateral cooperation in oil and gas.
It is expected to both the countries will work to encourage and promote investment and cooperation between both the two ministries of oil and gas through affiliated companies.
It is noted that Qatar holds the world's third largest natural gas reserves after Russia and Iran. Qatar has export capacity of 77 million tonnes of LNG (liquefied natural gas) in a year whereas India imported 5.6 million tonnes of oil from Qatar under a long-term contract.
During the talks, India is understood to have expressed its keenness to export more oil and LNG from Qatar. The Qatari side is broadly positive towards the Indian proposal, but there are pricing issues that remain to be sorted out.
Apart from this three more agreements were signed between both the countries including educational exchanges, cultural contacts and promoting tourism.
Both the countries were agreed regarding organising exhibitions and for this MoU were signed between India Trade Promotion Organisation and Qatar Tourism Authority.
(With inputs from IANS)