No shortage of ammunition: Antony
New Delhi, Tue, 10 Apr 2012
NI Wire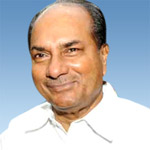 Ruling out the rumours spreading in media, Defence Minister A K Antony today said that though, there will always be short-comings but India is well prepared to defend itself in the face of a war and present condition of ammunition is far better than earlier.
"These are all rumours that ammunition only for four days is left in the stock. India is well prepared," Antony told reporters on the sidelines of an Indian Air Force (IAF) function here.
Rejecting the claims of some Lt. General, who made a statement in media that India has only four days ammunition left and it can be trapped in great danger in case of war, Antony said, "I can assure that India is fully prepared. On the whole, the Indian armed forces are better prepared to face challenges."
He was asked about reports that a parliamentary panel was informed by senior IAF and army officers that stocks of certain types of tank munitions were down to four days of reserves. This follows the leaked letter army chief Gen VK Singh wrote to Prime Minister Manmohan Singh, referring to serious gaps in India's defence preparedness.
But the defence minister denied any gaps in the preparedness of the armed forces.
Responding to media after the function, Antony said, "There will always be some shortcomings and that is also in the process. We can't expect 100 per cent requirements to be fulfilled and also that entire force is not on the front. They are all spread over."
On the IAF conference, the Defence Minister expressed happiness over the fact that the Air Force had concluded 317 capital acquisition contracts worth over Rs. 1.11 lakh crore in the last five years.
"We are also very confident about our preparedness. Some new platforms have already started coming and more will come in the near future," he said.
--With Agencies Input--