J&K CM presses Union Home Minister to withdraw AFSPA from the state
Jammu, Tue, 10 Apr 2012
NI Wire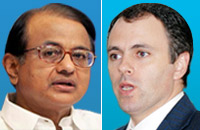 The Chief Minister of Jammu and Kashmir Omar Abdullah Tuesday mounted pressure over Home Minister P Chidambaram, who is on his personal visit to Vaishno Devi shrine for paying obeisance in J&K, for withdrawing Armed Forces Special Powers Act (AFSPA) from the state.
Omar asked Chidambaram to revoke AFSPA in a meeting chaired by Chidambaram after the 'Darshan' in the state capital.
According to official sources, P Chidambaram hold a meeting with civil, police, paramilitary, intelligence and army officials for reviewing the security status in the state.
In the meeting, Abdullah strongly advocated that the process of revoking AFSPA be started by lifting it from peaceful areas where the army has no operations.
He suggested that AFSPA, which gives armed forces in the state special powers, be lifted from districts like Jammu, Samba and Kathua in the Jammu region and Srinagar and Badgam in the Kashmir Valley.
According to the sources, the meeting was presented with graphs showing steady decline in militancy since 2010.
However, the army is of the view that the situation is still volatile.
The panel of three interlocutors - journalist Dileep Padgaonkar, academician Radha Kumar and former information commissioner M.M. Ansari - was formed in October 2010. It submitted the report in October 2011. A discussion on this report was also held.
The state government also supported the lifting of more security bunkers from the Kashmir Valley this summer 'to give more semblance of normalcy and peace'.
According to official statistics, 1,600 security bunkers have been erected in the state since 1990. About 80 bunkers, mostly from Srinagar, were removed last year. This year, there are plans to remove 25 more.
Abdullah, it is learnt, also said that the report of the interlocutors on the state be made public and its recommendations implemented. If not, such a process would lose credibility, he said at the meeting.
--With IANS Input--