Tatra Truck row: CBI to questioned Ravi today
New Delhi, Sun, 01 Apr 2012
NI Wire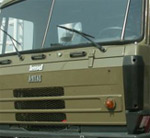 The Central Bureau of Investigation (CBI) on Sunday issued a restraint order to Indian born London businessman Ravi Rishi from leaving the country, who was at present in New Delhi for viewing the Defence Show. The investigating agency may cease his passport too.
CBI has issued this order to Rishi in the matter of Tatra Truck row, as it has exposed that Indian state run company BEML would purchase the parts of Tatra trucks from Ravi's owned company Vectra that would purchase the sub standard trucks from its original Czech Republic Company Tatra.
This is the second time Ravi was questioned by the CBI in the case.
According to sources, CBI Director has come to know from his sub-ordinate that a case is made against Ravi and there is a need to thoroughly investigation.
Earlier, following the order of Defence Minister A K Antony to conduct the inquiry over Army Chief General V.K. Singh's allegation that he was offered a bribe of Rs.14 crore to clear the supply of 600 sub-standard vehicles to the Indian army.
The CBI issued a lookout notice in the name of Vectra boss Rishi.
The sources said based on the reference, two separate cases could be registered by the agency -- one related to the deal and another to the alleged briber offer.
On Saturday, Defence Research and Development Organisation chief V.K. Saraswat defended the supply and use of Tatra trucks in the army, describing the vehicle as an outstanding one.
He also said that the army chief and Defence Minister A.K. Antony should tread cautiously and sort out their differences.
--With ANI Input--