Srisanth rocks with Halla Bol
Jaipur, Sun, 01 Apr 2012
NI Wire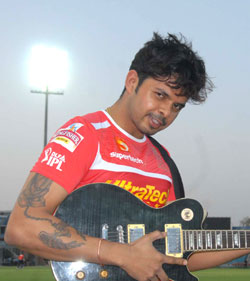 Rajasthan Royals has announced their newly acquired fast bowler S Sreesanth will entertain crowds before the team plays its first match of IPL 2012 at Jaipur's Sawai Mansingh Stadium on 6th April 2012.
Sreesanth, a passionate musician, will perform for the team's fans with his experimental music band S36, which he formed with his brother-in-law and close friends in 2010. As part of the pre-game concert, the band will play an all-new version of Halla Bol, the Rajasthan Royals official team anthem, and other numbers from 6:20 p.m. to 7:20 p.m. before the team's opening match against Kings XI Punjab.
Commenting on the upcoming performance, Royals pace man, S Sreesanth said, 'Music is something that is very close to my heart. Besides cricket, it gives a lot of energy and strength.
The band's name is a combination of the first letter of Sreesanth's name and the player's lucky jersey number. Rajasthan Royals recently announced that their box office at Jaipur's Sawai Mansingh Stadium would be open from 10 a.m. to 7 p.m. every day.