Gold coins for Daredevils, if wins IPL
New Delhi, Sun, 01 Apr 2012
NI Wire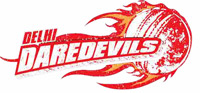 There is a chance for Delhi Daredevils to win a gold coin if they clinched the fifth edition of the India Premier League (IPL). Not only players but also support staff will get 24 carat gold coins by Muthoot group if they win the tournament.
George Muthoot, chairman of the Muthoot Group announced on the occasion of launching the limited edition Delhi Daredevil Gold coins. "If Delhi Daredevils wins the IPL this year, the Muthhot Group will give each member of the team and staff a 24 carat limited edition gold coin," he said.
Muthoot Group, who are the sponsors of the Daredevils, presented the team captain Virender Sehwag a gold coin On the occasion.
However Daredevils had a poor season last year, finishing at the bottom of the table in the IPL. But this time it has made some changes.
On the occasion Virendra Sehwag said that we would try to do our best this season and hope that we can win theIPL.
(With inputs from IANS)