Union Minister Virbhdra Singh sends legal notice to Arvind Kejriwal
New Delhi, Sun, 01 Apr 2012
NI Wire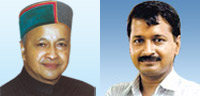 Stepping out a legal action against Team Anna's key member Arvind Kejriwal who has been continuously targeting to Member of Parliaments, Member of Assemblies and politicians for their alleged involvement in several criminal case, Union Minister Virbhadra Singh on Sunday sent him a legal notice.
Kejriwal on March 25, 2012 in Anna Hazare's day-long token fast have announced the name of 14 MPs against whom charges of corruptions were levelled. Kejriwal again on Friday at a press conference in his Kaushambi (near Delhi) residence stated that Parliament's "tendency to induct criminal MPs" was increasing.
"A total of 522 criminal cases are being carried in the court against 162 MPs of which 76 are of heinous nature. The tendency to induct criminal MPs into the parliament is being increased."
"In 2004, 128 MPs were from a criminal background... the strength reached 162 in 2009," he said.
Kejriwal claimed that in 2009, the Congress gave tickets to 117 candidates with a criminal background, of which 44 were elected. The Bharatiya Janata Party fielded 116 such candidates, of which 44 were elected.
He alleged that cases of bribery against parliamentarians were a "well known fact".
Referring to the MPs found taking bribes for asking questions, Kejriwal said that the action against them was "merely their termination from the house".
--With IANS Input--