Service tax is a cruel joke with Common Man: Prof Malhotra
New Delhi, Sun, 01 Apr 2012
NI Wire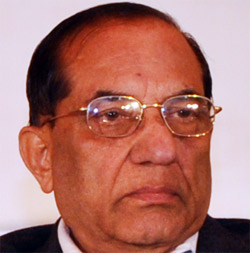 Leader of Opposition in Delhi assembly Prof. Vijay Kumar Malhotra has said that on a day when world over people celebrate it as a all fools day, with pranks and good humors, the government has broken the back of the Common man, punishing him with extra taxes.
Malhotra said that Everything whether it is Railway fare, Air Travel, eating out, going on a holiday, insurance policy, electricity, Cheque draft, cement, branded garments, Gold, tents for marriages and other celebrations will cost more.
The Government in the process has put extra burden of whopping Rs 45,000 crores on the ordinary people.
Prof Malhotra, who is also the chairman of the BJP's election campaign committee for the upcoming MCD elections, charged the Government with a criminal complicity to deprive the common man of a decent living.
He said already the prices of vegetables, fruits and other household goods have jumped many folds, leaving the lower and middle class families bewildered and shocked. They are finding it hard to make both ends meet.