Aung suu kyi on the way to make history
Yangon, Sun, 01 Apr 2012
NI Wire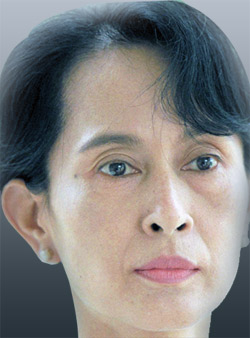 Amidst the 150 foreign observers the people of Myanmar are casting their vote for parliamentary by election in which Nobel laureates and icon of democracy in the country Aung San Suu Kyi is contesting for the first time.
About six million voters are eligible to decide the fate of 157 candidates in the election. There are 17 parties are in the election arena and balloting is taking place for 45 vacant seats in nine regions. To avoid any irregularities and maintaining transparency in the election, over 150 observers from the European Union, the US, Canada, Australia, India are monitoring the exercise.
It is noted that the main fight is between National League for Democracy (NLD) of 66-year-old Suu Kyi and ruling Union Solidarity and Development Party.
Suu Kyi has been fighting election for a lower house seat from Kawhmu Township constituency. In 1990, NLD had won a landslide victory in a general election but the military refused to accept the result.
Suu Kyi spent much of the following 20 years under house arrest and refused to take part in the 2010 election.
A day earlier, around 60 percent of respondents in a countrywide survey said they will vote for Suu Kyi's National League for Democracy (NLD).
(With inputs from IANS)