Google Maps Goes 8-Bit For April Fools'
New Delhi, Sun, 01 Apr 2012
NI Wire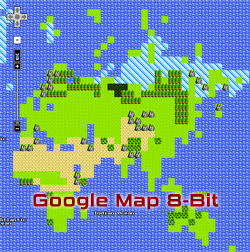 Google has launched a new version of google map for Nintendo Entertainment System (NES) with beautiful low-res graphics, simple and intuitive controls, and a timeless soundtrack. By this one can make ones next long distance journey seem that little bit more epic.
According to sources this new way to view Google Maps will definitely give a next journey that sense of adventure.
It has been said that the pixel style map can be accessed by visiting the regular Google Maps website. Here one has to click the 'Quest' option, alongside the usual 'Earth' and 'Satellite' buttons. Once clicked, the map you are viewing will be transformed into 8-bit goodness.
Google Maps software engineer Tatsuo Nomura posted on the Google Lat Long blog with details of this retro feature. According to the post, the 'Quest' mode on the Google Maps website is just a "trial"of the full version, which is said to be "coming soon" to the Nintendo Entertainment System--as described in this video.
Although the video explains that Google team want to bring maps to the NES as the hugely successful console has been long-neglected by the search giant.