Several bird species on the verge of extinction
New Delhi, Tue, 06 Mar 2012
NI Wire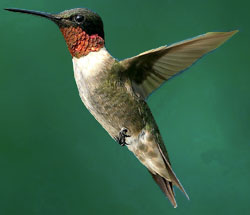 Scientists have warned that up to 900 species of tropical land birds around the world may become extinct by 2100.
These research finding are based on the effects of a 3.5C rise in Earth's temperature.
These bird species may find difficult to adapt to habitat loss and intense weather events, Cagan Sekercioglu, author and assistant professor of biology at the University of Utah has said.
Some tropical mountain birds that includes Venezuela's scissor-tailed hummingbird and East Africa's regal sunbird are endemic to their habitats and are not comfortable to move, that put these species at risk.
Rising sea levels may result in the loss of land that could be another reason for the vulnerability of these tropical island species. The mangrove finch on the Galapagos Islands, the Abbott's booby on Christmas Island and Mexico's Cozumel thrasher are highly susceptible to these changes.
Hundreds of restricted-range bird species are under this threat, such as horned guan, the Cochabamba mountain-finch, the red-fronted parrotlet and the blue-eyed ground-dove.
As per future habitat loss, every degree of surface warming could influence between 100-500 species, Sekercioglu said.
Sekercioglu noted that tropical mountain species are among the most vulnerable. He stated that bird species would need to be able to acclimatize physiologically to variations in temperature and be able to move to higher altitudes in order to survive, says BBC reports.
Sekercioglu says cooler, more humid forests could recede higher up mountains and combined with human settlements at higher altitudes, forest habitat could "get pushed off the mountain".
This would create "an escalator to extinction" he cautioned..
"Coastal species are also vulnerable - as coastal forest can be sensitive to salinity, and these forests can get hit harder by hurricanes and typhoons, and these events are also expected to increase," he said further.
Birds in extensive lowland forests having less mountains in places such as the Amazon and Congo basins - may find it difficult to relocate, while tropical birds in open habitats such as savanna, grasslands, scrub and desert face decreasing habitats.
Tropical birds in desert area are use to hot, dry conditions, but they could suffer in the case of shrinking water resources.
Mike Crosby, senior conservation officer in Asia at Birdlife International also added: "We know that quite a lot of tropical birds are not very good at dispersing so this could be a big issue in the future if the suitable climate moves several hundred kilometres or even tens of kilometres, some of the birds might not be able to move their ranges sufficiently quickly in response to that.
"We might have to take novel conservation measures in the future such as translocation of birds from one site to another."
The study took into account at how manakins, of which there are 45 species in the neotropical region, would adjust with these changes. Researchers found that manakins limited to the lowland habitats of the Amazon and Cerrado in Brazil, would be most influenced as they could lose up to 80 percent of their habitat; as many as 20 percent of the Cerrado manakin species are supposed to face extinction.
Biological Conservation Journal paper has published this study.
--With inputs from ANI