Books touches upon mind and balance the mind
New Delhi, Tue, 06 Mar 2012
NI Wire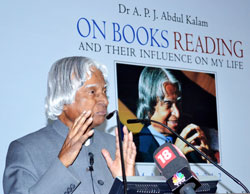 New Delhi 6 March 2012, Amit Pandey
"Books touches upon mind and balance the mind" said Dr A P J Abdul Kalam, former President of India during a special lecture organised by NBT on Book Readings and their Influence on My Life at 20th New Delhi World book Fair.
"I'm delighted to participate in 20th New Delhi World Book Fair. I'm happy to know that 1300 publishers from many countries are participating. I'm a book lover and happy to learn about your idea of promotion of books. I have come to World Book Fair to spend my time to select good books," he added.
Talking about the significance of books in life Dr. Kalam said, that books are great, beautiful and intellectual companion to me and balances the mind at different stages of emotions. They are the best companion for us and are everlasting as well as enriching.
During his speech he quoted about some of his favourite books including Grand Pursuit, by Sylvia Nasar, Code Name God by Mani Bhaumik, Thirukural of Saint Thiruvalluvar and works of Jalaluddin Rumi, a 13th century poet.
He also told that every home should maintain a home library of minimum 20 books, of which at least 10 books should be quality books especially for children. This can help your children to develop reading habits that will lead them to success in their life.