World Book Fair 2012 ended with bigger hopes
New Delhi, Mon, 05 Mar 2012
NI Wire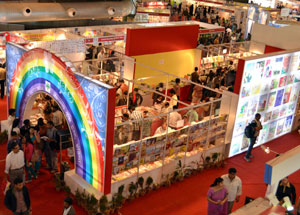 New Delhi 5 March 2012, Amit Pandey
The 20th edition of World Book Fair ended with a hope of a bigger event next time on Sunday. The nine day-long book fair, that was inaugurated by Mr. Kapil Sibal, Human Resource Development Minister, on 25 February 2012 was concluded on 4th March 2012.
More than 7 lakhs visitors were registered in nine in the fair searching for the books of their choices. A number of famous personalities including Dr A P J Abdul Kalam, former President of India, Javed Akhtar, Farooq Sheikh, Amol Palekar, Satish Kaushik, Sushma Seth, Muzaffar Ali, Shahbaz Khan, Gilzar, Anupam Kher, Neha Dhupia, visited the fair in these four days to encourage the visitors for reading.
NBT organised a special lecture on Book Readings and their Influence on My Life by Dr A P J Abdul Kalam, former President of India in which he said "I'm delighted to participate in 20th New Delhi World Book Fair. I'm happy to know that 1300 publishers from many countries are participating. I'm a book lover and happy to learn about your idea of promotion of books. I have come to World Book Fair to spend my time to select good books,"
Later, Ms Vibha Puri Das, Secretary, Ministry of Human Resource Development also released the CDs of the catalogues of NBT books in Hindi and English.
A workshop was also organised by NBT in association with National Film Archive of India, Pune on Writing Film Appreciation at the Theme Pavilion. Ms Vibha Puri Das, Secretary, Ministry of Human Resource Development inaugurated the workshop. During the event famous media professional Shri Anil Zankar discussed about the art of Scriptwriting in Indian Context. An audio-video presentation was given on "How to Read a Film" by Shri Anupam Siddhartha, SIMC.

During the fair, a special session of discussion was organised on Urdu Language and Indian Cinema at the Theme pavilion by the National Council for the Promotion of Urdu Language. During this session famous film actor Mr. Farooq Sheikh, Mr. Sagar Sarhadi, eminent film-writer and director, Mr. Javed Siddiqui, famous screen writer and playwright, Mr. Salim Arif, eminent theatre activist, Shri Basharat Ahmad Farooq, well-known critic and wellknown writer and critic Prof. Aziz Siddiqi took part in the discussion. The major focus of discussion was the significance of urdu language for common people, print and electronic media.

M.A. Sikandar, Director, National Book Trust, India said "The book fair was very successful this year with the footstep of more than 7 lakhs visitors in four days. The number of participants also increased to 1300 this year with an increase of 400 from the last year.' The fair is organised with an objective to promote book-mindedness among people every strata and to show the strengths and diversity of Indian book trade with its multilingual profile. He added.

Moreover, a number of books were also released during the book fair including a book on vastu shastra by famous vastu shastra astrologer Dr. Kuldeep Bansal namely MahaVastu handbook that gives you a complete information of myths and practical working procedures of vastu shastra. Famous Hindi actress Neha Dhupia released the book.
In addition to that, books namely "Hanju Chhalak Paye" and "Teri Rehguzar" by H.H. Maharaj Ghasita Ram ji 'Kant' were also released during the fair. The books are based on the principles of happiness in life. It tells you that you should not run away from your responsibilities and try to boost the morale of hopeless people that is the key to live the life.
Sawan Kirpal Ruhani Mission also released a book "Spark of the Divine" written by renowned Spiritual Master, Sant Rajinder Singh Ji Maharaj. These books are available in 55 languages across the globe and are a vast collection of books on Self-knowledge and Soul power that could be seen under one roof.