Victoria Beckham obsessed with Swinton and Prada
New Delhi, Sat, 31 Mar 2012
NI Wire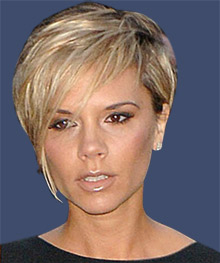 Designer and formers singer Victoria Beckham has said that she is quite obsessed with Tilda Swinton and Miuccia Prada.
"I'm quite obsessed with [her]," the People's magazine quoted her as saying Harper's Bazaar U.K.
"I find her intriguing, very stylish, she clearly understands fashion," she added.
Commenting on her clothing line and design process, the formers spice girl who said that her designer crush was on Prada.
"I'm absolutely blown away," she added.
"Everything she does is genius. I've never met her, but everything she does - not just the hair, the makeup, the shows - everything about the brand impresses me," she has been quoted as saying.
The wife of star footballer David Beckham and mother of four also said that at she tries new designs out on herself in her design studio.
"It's how I work," the 37 year old designer has been quoted as saying.
"I'll stand here in my knickers and start draping fabric over myself. I found it really difficult when I was pregnant and I couldn't do that ... it was very hard when I didn't have my body," she said.
--with inputs from ANI