Proplanet climbes Everest: A move to clean the ecology
New Delhi, Fri, 30 Mar 2012
NI Wire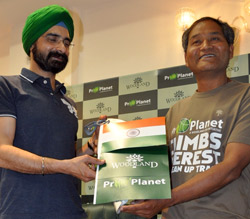 'Proplenet climbs Everest' has initiated an effort to clean the ecology and restore the atmosphere with the Lav Raj Singh Dharmshaktu who has scaled down Everest three times. This effort has been supported by Woodland, which is committed to its social obligations. It was revealed in a function organised in Capital.
On this occasion Lav Raj Singh Dhramshaktu said that he has scaled down the Everest earlier three times and this is his fourth attempt. He said that the Proplanet CSR has been supporting for the effort. It is the name of a move to save the ecology and it is committed to make earth a better place to live. By this move my mission is to clean the Everest and also inspiring the youth for the same cause.
It is noted that Lav Raj Singh Dhramshaktu who is an inspector in BS.F. has started his expedition in 1989. He has undergone a tough training for nine month in which he has took the training for breathing and other technical training during the expedition.
Woodland M.D. Harkirat Singh told that Woodland is the brand, which has been related to such an adventures jobs. Scaling Mt. Everest is a tough and adventurers work. Proplanet and Dharmshaktu both have similar thoughts and that is why we are standing together for a noble cause.