Bahuguna proves majority, BJP walkout
Dehradun, Fri, 30 Mar 2012
NI Wire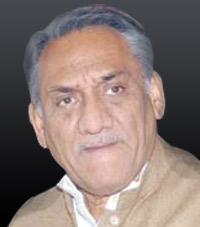 Amidst the walkout of the BJP, newly elected Vijay Bahuguna led Congress govt. proves its majority in the assembly. Bahuguna said that election of the speaker was a testimony and it was enough to prove his majority in the house but it would be prudent that a vote be taken. However opposition BJP walk out the move.
It is noted that the Congress strength is delicately poised in the 70-member house as it holds 32 seats, just one ahead of the BJP. With the support of a Uttarakhand Kranti Dal (UKD) legislator and the support of three BSP members, it formed the government.
The chief minister Bahuguna moved the request for a vote of confidence when the session began although opposition BJP opposed the move and demanded a debate first.
BJP legislature lay by former cm Ramesh Pokhriyal Nishank staged a sit-in at the gallery and rose anti govt. slogan. He said that govt. is indulging in dadagiri and this is not the proper way. He further added that the government had made no efforts to strike a consensus even in the election of the speaker, forcing the BJP to put up its candidate.
However the smoothly running of the Bahuguna govt. is not so easy and he has to skate on the ice in the coming days as his supporters led by Harak Singh Rawat initially refused to be sworn in as legislators. They fell in line only a few days back. (With inputs from IANS)