Demi Moore upset to know Kutcher-Rihanna romance
New Delhi, Thu, 29 Mar 2012
NI Wire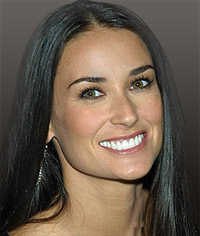 Actress Demi Moore is upset after she got to know that her estranged husband Ashton Kutcher is dating singer Rihanna. The 49 year old actress got separated from Ashton Kutcher in November 2011.
The Golden Globe award winner, who recently went under rehabilitation for a reported eating disorder and addiction, was devastated after seeing a picture of Rihanna visiting Kutcher's home late night.
"Demi is constantly keeping tabs on Ashton, so when these pictures came up she was understandably devastated. Demi's convinced something happened between them and said she felt 'sick to her stomach'," femalefirst.co.uk has reported a source as saying.
"Demi's been acting crazy ever since, trying to find out information about the pair. Demi is in such a fragile state, even the idea of them together has affected her quite badly," the source said.
--with inputs from IANS