India needs to generate 8-10 million jobs every year: PM
New Delhi, Thu, 29 Mar 2012
NI Wire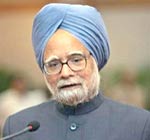 "India need to create 8 to 10 million jobs every year over the next decade to absorb the expected growth in the labour force,"said Prime Minister of India Manmohan Singh while addressing to guests at BRICS summit in New Delhi.
In this regard, "We are working on ambitious programmes of skill upgradation and education and creation of an environment conducive to an expansion of productive job opportunities," he said.
For addressing this sort of problems, PM suggested to learn the experiences of the BRICS.
However, he expressed his satisfaction over the economic condition of BRICS as he said emerging market economies are growing at a healthy pace and increasing their share in global trade and output, but he also pointed that to revive global demand and growth, developing countries need access to capital, particularly for infrastructure development.
Singh said that India was ready to establish a BRICS-led South-South Development Bank to counter the monetary crisis problem amid economic meltdown.
A deal in this regard is likely to be signed soon Trade Ministers convened a meeting today in the regard, sources said.