BRICS summit starts in Delhi
New Delhi, Thu, 29 Mar 2012
NI Wire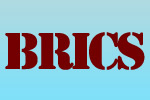 With many expectations the awaited 4th BRICS summit starts in Capital on Thursday. The leaders of five major emerging economies have started their talks for a better tomorrow and tie up between the countries. The theme of the summit is "BRICS Partnership for Global Stability, Security and Prosperity".
Presidents of the top five major emerging economies Russia- Dmitry Medvedev, China-Hu Jintao, Brazil- Dilma Rousseff and South Africa- Jacob Zuma and Indian Prime Minister Manmohan singh assembled at the Taj Palace hotel to hold the discussions.
Leaders are ready to construct a new trading and financial co-operation block for a better tomorrow for which they will utilise the platform.
It is important that with different political and economic systems, all the leading economies have to mark some distinct decision and it will not be easy.
India and China, which are the world's big economies, have many issues to settled down and one of them is Tibet. Many Tibetan are still living in India and Tibetan protesters have shown their reach in capital on many occasions.
It is noted that BRICS traces its origin to the BRIC acronym coined by Goldman Sachs economist Jim O' Neill in a paper entitled "The World Needs Better Economic BRICs," based an economic modeling exercise to forecast global economic trends over the next half century.
The first BRICS summit was held in Yekaterinburg, Russia (2009), followed by Brasilia (2010) and third in Sanya, China (2011).
In 2011 South Africa joined the group and it becomes BRICS From BRIC.
It is noted that BRICS accounts for 26 percent of the world's landmass and 42 percent of the global population, including India and China, two of the world's most populous countries.
(With inputs from IANS)