Mahindra NBA Challenge tournament starts in Delhi
New Delhi, Wed, 28 Mar 2012
NI Wire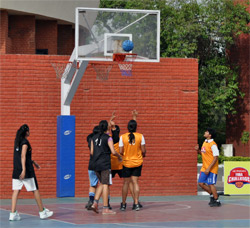 The third season of the Mahindra NBA Challenge entered into its 2nd days and audience observed interesting matches at the Modern School ground at Barahkhambha Road New Delhi. Season three of the tournament is taking in five cities of the country.
On the second day of the tournament,matches played on court-1, U-16 girls in which GD Goenka defeated Mater dei School by 26-14. In U-18 group Dharam Public School defeated Sports Star Club by 26-22. U- 16 boys match Saintgiri School defeated Amity International School by 44-25. DPS Dwarka defeated New Green field by 26-12. U-16 girls match Bal Bharti Dwarka defeated by St. Froebellan with 0-20.
In the second court matches U-18, Girls, host team Modern School defeated APS Noida by 38-36. In another match of U-16 group Boys:Goodley School defeated SPV by 52-26. U-16 Boys GD Goenka defeated New Greenfield School Alaknanda by 62-08. Air Force Golden Jubilee Institute defeated ITL School by 66-26. In another match of U-16 Boys St Michael School defeated Dharam Public School by 20-0.
It is noted that the tournament has been divided in many subgroups like five city league features eight divisions total for males and females. Sub juniors for ages 12to 13, Youth for ages 14 to 16, junior for ages 16 to 18 and adults ages 19 over.