Moderate drinking after heart attack reduces death risk
New Delhi, Wed, 28 Mar 2012
NI Wire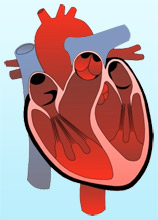 A recent research has found that the men who drink in smaller amounts have a lower risk of death than non-drinkers, particularly after having survived the first heart attack.
"Our findings clearly demonstrate that long-term moderate alcohol consumption among men who survived a heart attack was associated with a reduced risk of total and cardiovascular mortality
Study co-author Jennifer Pai, assistant professor of medicine at Channing Lab, Brigham and Women's Hospital, has been quoted as saying.
"We also found that among men who consumed moderate amounts of alcohol prior to a heart attack, those who continued to consume alcohol 'in moderation' afterwards also had better long term prognosis," European Heart Journal has quoted Pai as saying.
Pai and team conducted this study on a subset of 1,818 men in the Health Professionals Follow-up Study who had survived a first heart attack between 1986 and 2006. These participants were followed for up to 20 years from the time when they received first heart attack. In this period 468 men died, a Brigham statement said.
After considering the levels of alcohol consumption before and after the heart attack, the researchers reached at the conclusion that the a large number of these men did not change their drinking habits, and also found that people who drank before and afterwards showed a lower risk of death than non-drinkers.
"Our results, showing the greatest benefit among moderate drinkers and a suggestion of excess mortality among men who consumed more than two drinks a day after a heart attack, emphasize the importance of alcohol in moderation," Pai has been quoted as saying.
--with inputs from IANS