DMRC starts its move for Faridabad
New Delhi, Wed, 28 Mar 2012
NI Wire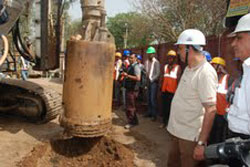 Now DMRC started its move to reach Faridabad, which was a long awaited destination for Delhi Metro. Mangu Singh, Managing Director,DMRC, Directors and other senior officials from DMRC and Haryana Urban Development Authority (HUDA),were present on the occasion when construction work started.
According to Delhi Metro sources, Delhi Metro is using specially designed pre-cast U shaped Girders to complete the viaduct in a short time of 20 months. This is for the first time in Delhi Metro's history where a single span of approx. 27 meters in length and weighing about 160 tonnes will be used.
The average height of the pillars on this corridor will be approximately 9 meters and over 500 piers (pillar) will be erected to make the viaduct for this corridor.
The signing of the Memorandum of Understanding (MoU) between Government of Haryana and Delhi Metro Rail Corporation (DMRC) for extension of this Metro Corridor took place on the 26th of March, 2012.
This fully elevated corridor will have 9 stations and likely to be operational by year 2014. This is an extension of already operational 20.16 km long Central Secretariat-Badarpur corridor of Line -6, which is further extended from Central Secretariat to Kashmree Gate covering 9.36 km.