Construction work on Delhi-Faridabad metro rail line begins today
New Delhi, Wed, 28 Mar 2012
NI Wire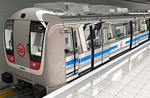 Construction work on Delhi Metro's line 6 (Central Secretariat to Badarpur) begins today with the aim to connect the national capital to Haryana's biggest city (in terms of area), DMRC sources informed.
The construction work will be held on both sides of lines 6 – from Badarpur to Faridabad and from Central Secretariat to Kashmiri Gate, sources added.
Just two days before, a Memorandum of Understanding (MoU) was signed between Delhi Metro and Haryana government in which a fully alleviated metro line of 13.875 km will be prepared by 2016 with the expected completion of Delhi Metro Rail Corporation's (DMRC's) Phase-III.
The MoU was signed by S.S. Dhillon, Financial Commissioner and Principal Secretary, (town and country planning department) Haryana government and Kumar Keshav, Director (project and planning), DMRC in the presence of Haryana Chief Minister Bhupinder Singh Hooda and Metro chief Mangu Singh.
According to DMRC's detailed project plan, there would be nine stations on this standard gauge line - Sarai, NHPC Chowk, Mewala Maharajpur, Sector-27A, Badkal Mor, Old Faridabad, Ajronda, Faridabad New Town and YMCA Chowk while a train maintenance depot will be constructed near Sector-20A in Faridabad.
The line 6 of Delhi Metro will also be extended to Kashmiri gate from currently Central Secretariat, release said.
According the Haryana Chief Minister, there is a plan to extend the corridor till Ballabhgarh for which Haryana government has submitted the detailed report to DMRC.
--With IANS input--