Only 'pure' people have a right to sit in 'Temple of Democracy': Anna Hazare
Mumbai, Wed, 28 Mar 2012
NI Wire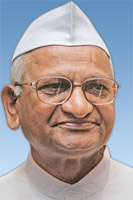 Anti-corruption crusader Anna Hazare after his day long token fast once again has repeated his words about the Members of Parliament (PM) saying that Parliament is a temple of democracy and only 'pure people' have the right to sit in the Parliament.
He was responding it at his native village Ralegan Sidhhi with an interview to media.
As it is noted that several MPs were extremely angry over Team Anna's derogatory remarks against MPs and politicians and they had earlier accepted to bring censure motion against Team Anna on Tuesday but later the motion was dropped.
However, MPs have warned to Anna Hazare and his team to do not cross their limitations and honour the dignity of parliament and its members.
In this response, Anna said, "We do not speak against any political party or person. We are just fighting for the nation. The central government has been cheating us with false promises. They do not have clear intentions in bringing Lokpal Bill."
Speaking on his team member's Arvind Kejriwal's allegation levelled against 14 MPs, Anna said, "He (Arvind Kejriwal) has all the proof. The speaker should elect a committee and the allegations should be investigated. We are ready to face punishment if found guilty."
Kejriwal on Anna's day-long token fast day (on March 25,2012) had released a list of 14 ministers who, he claimed would be facing investigation under charges of corruption if a strong ombudsman bill is passed. He took the names of around 25 politicians, including ministers Sharad Pawar, S.M. Krishna, P.Chidambaram, Praful Patel, Kapil Sibal, Kamal Nath, Farooq Abdullah, Ajit Singh, Sri Prakash Jaiswal, Sushil Kumar Shinde, Vilasrao Deshmukh, M.K. Azhagiri and G K Vasan.
"If the Lokpal Bill comes into force, FIRs will be lodged against 14 ministers of the Union Government," Kejriwal said.
"Who will punish people like them? Delhi Police or the CBI? No one knows because these people will never pass Lokpal Bill," he added.
--With ANI input--