No one knows the govt.continue till 2014 or not: Advani
Gandhinagar, Tue, 27 Mar 2012
NI Wire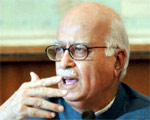 Senior BJP leader Lal Krishna Advani has demanded for a expeditious investigations into the allegations of a bribe being offered to army chief General Vijay Kumar Singh. Comparing the Central govt to a terminally ill patient due to a series of corruption charges. He alleged that it is a very serious matter.
Commenting on the central govt. Advani said that however corruption in the political arena is one thing but it is a very serious charge that general has labelled as somebody has tried to offer a bribe. In such a circumstances probe should not be delayed and report would be tabled in parliament and made public after atinvestigation.
Talking about the future of the govt. he said that it is not working properly and election would be in the interest of the country. He said that it is difficult to assume regarding the fate of this govt. whether it will continue till 2014 or not. I have held that the condition of such a government, is like that of a terminally ill patient, and, I have known a terminally ill patient to survive for several years, he added.
It is noted that General Singh had earlier alleged that he was offered a bribe worth Rs.14 crore by an equipment lobbyist in order to have a tranche of 600 sub-standard vehicles of a particular made cleared for purchase.
--With inputs from ANI--