Censure Motion against Team Anna in Lok Sabha
New Delhi, Tue, 27 Mar 2012
NI Wire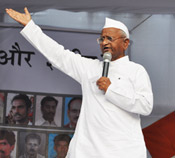 Amid continuous attacks from Team Anna for the members of Parliaments and politicians, Lok Sabha today accepted to bring censure motion against Team Anna promoted by Janta Dal (United) leader Sharad Yadav, who was among the main targets in Anna Hazare's day-long token fast on March 25.
After Completing the answering session of Union Finance Minister Pranab Mukherjee over the presented Budget, Sharad Yadav proposed to move a censure motion seeking to refrain team Anna from using derogatory language against members of Parliament.
"There is trend of targeting politicans. People should stay within their limits. What they (Team Anna) have done should be condemned as they fail to see the good people in Parliament. There are some people here who should not be MPs. But there are several good people," Sharad Yadav said.
The censure motion, if adopted and voted in favour by a majority in the house, would mean that Team Anna members would be criticised but won't be called to the house unlike under a privilege motion.
According to sources, both the ruling parties and leaders of opposition have become ready to pass this motion. If the voting occurs, there will be a rare case of voting where both sides would cast their votes in the favour of motion.
Moreover, sources also said that Arvind Kejriwal and Manish Shishodia are the main targets of MPs as Arvind on March 25 in Anna's token fast had said that parliament was facing a credibility crisis with 162 sitting MPs facing criminal charges while Manish Shishodia during displaying a footage of Sharad Yadav said 'Chor ki Dadhi mein tinka' (A guilty mind is always suspicious).
--With agencies Input--