Now more interest on Small Saving Schemes
New Delhi, Tue, 27 Mar 2012
NI Wire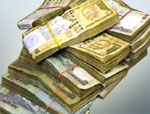 Now investment in Small Saving Schemes has become more fruitful as earned interest on deposit rates in some popular small saving schemes have gone up higher by up to 0.5%.
In a move to restore the decreasing interests of investors in small saving schemes, government has decided to enhance deposit rates from 0.2% to 0.5% depending upon the schemes.
The small saving schemes like Public Provident Fund (PPF), Monthly Income Scheme (MIS) of Post Offices, National Saving Certificates (NSC) and Senior Citizen Saving Certificates (SCSC) were losing popularity due to generating less interests on deposits after government's decision to let banks free to offer different interest rates.
Banks, after that begin to offer higher interest rates in the comparison to that of Post Offices that was hitting the government's National Small Saving Funds (NSSFs).
Now, after increasing the deposit rates in small saving schemes, the pressure has now come up on banks to hike interest rates on term deposits.
According to Finance Ministry, Interest rate on PPF have been increased to 8.8% from 8.6%, while MIS will attract 8.5% interest as against existing 8.2%.
The term deposits in post office has been increased by 0.50%. Now, you will get 8.2% interest on one-year term deposit and 8.3% interest on two years term deposits.
The purchase of National Savings Certificates (NSC) schemes having maturity of five and 10 years will now produce 8.6% and 8.9% interest, respectively, up 0.2% each.
Interest rate for three-year term deposits has been raised to 8.4% from 8% while interest rate on five-year deposit has been hiked from 8.3% to 8.5%.
The five-year recurring deposits will earn an interest of 8.4%, against 8% at present.
The rate for senior citizens savings scheme (SCSS) has been increased to 9.3% from 9%.
However, interest rate on saving bank accounts has been retained to 4%.
This new hike will come into effect from April 01, 2012 and will continue till the end of this fiscal (from March 01 to April 30) year, Finance Ministry informed it in a release.