MPs responsible for not passing Lokpal bill, says Anna
New Delhi, Tue, 27 Mar 2012
NI Wire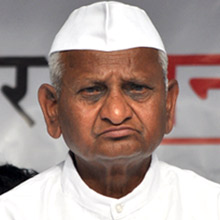 Veteran Gandhian leader and anti-corruption activist Anna Hazare launched fresh set of attack on MPs on Tuesday and asked who was responsible for not passing the Lokpal bill even after introducing it eight times.
Responding to the statement of "several politicians" that it would be parliament that would pass the bill, Hazare wrote in his blog that citizens had the right to ask questions from politicians.
"I agree that laws are made in the Lok Sabha. But despite being introduced eight times in the Lok Sabha, why was the Lokpal bill not passed," Hazare questioned.
"Politicians are servants of people who elect and send them to parliament to make laws. It is the citizen's right to ask their servants why the Jan Lokpal bill is not being passed," he said.
Hazare also said that as India is a democracy, the government should honor the opinions of citizens when making laws -- like in the case of Jan Lokpal bill.
"Such bills should be put on the internet and opinions and suggestions of the people should be sought which should then be presented before parliament," Hazare added.
"It is the government's responsibility to take into consideration the opinions of learned people of the society," he said.
The Lok Sabha will soon bring a censure motion against Hazare and his team, asking them to abstain from using derogatory language against members of parliament.
Several MPs on Monday requested the speaker to move a resolution condemning what they said were unsavory remarks by members of Hazare's team at their anti-corruption agitation here at Jantar Mantar on Sunday.
Team Anna member Arvind Kejriwal, who had said that parliament was facing a credibility crisis with 162 MPs facing criminal charges went under attack. Kejriwal had said that some MPs were thieves and rapists.
--With inputs from IANS