Anna Hazare is loosing ground among common men and media: Thackeray
Mumbai/New Delhi, Tue, 27 Mar 2012
NI Wire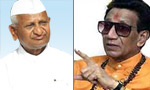 Since Flop Show in Mumbai, Anna Hazare and his team was loosing grounds, said Shiv Sena supremo Bal Thackeray on Tuesday in his party's mouthpiece Saamna.
Raising question over the relevance of the anti-corruption crusader, Bal Thackeray said, "The Team's members like Prashant Bhushan faced public ire, Arvind Kejriwal was greeted with slippers, Kiran Bedi's corrupt activities tumbled out, Swami Agnivesh was out of the Team when the agitation was at a peak, India Against Corruption's Mumbai head is embroiled in questionable activities."
Referring to the media, he said that the media which used to grab every word uttered by Hazare and his team, now barely take note of developments like the revival of the campaign from Jantar Mantar last Sunday.
Attacking to Team Anna, Thackeray said that Anna Hazare and his team, which lost the ground in Mumbai yet again resurfaced in Delhi on March 25 at Jantar Mantar, but there too he got 'meagre' support.
In terms of recently concluded election Thackeray said in his edit, 'It was expected that Hazare would lead the anti-corruption brigade in the campaign during the recent elections in five states, but he remained in and out of hospitals. However, his team members campaign in some parts, but they could not turned the voters in their favourites as it happened in Uttarakhand where team Anna worked in the support of B C Khanduri but Khanduri led BJP was trounced in the election.'
'In Uttar Pradesh too, Mulayam Singh's Samajwadi Party able to get clear majority who had exposed Team Anna's scam.'
'Anna Hazare and his team, however did not take a lesson from it and began agitation once again,' Shiv Sena supremo added.
He pointed out that the unbridled comments by some Team Anna members - (like calling Sharad Yadav a thief) - invited the ire of the entire Lok Sabha. Yet, Team Anna refused to improve itself, Thackeray lamented.
--With inputs of IANS--