10 Tips to fight summer heat
New Delhi, Mon, 26 Mar 2012
NI Wire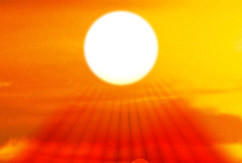 The summer has already erupted and we are yet to experience the real heat. The scorching heat from the radiant sun will stop us to move outside the house and we may face a problem of dehydration or skin burn due to the hard heat. But the situation can be dealt by following certain tips on daily basis that can help us to prevent the adverse effect of the summer climate.
Wear comfortable clothes made of thinner material. Prefer wearing cotton and light colored clothes during summer.
Drink plenty of water and avoid drinking diuretics like alcohol and caffeine.
Use sunscreen on your skin before you go out. Wearing a sunglass and cap is also recommended.
Get sufficient sleep and it is recommended to eat light, nutritious, and non-fatty meals during the summer. Eat foods rich in water content, like fruits and vegetables.
Do not use compact light in your home as it increases the heat. Instead of that it is recommended to use CFL since it produces 70% less heat.
Go for a swim with your family or friends. This will refresh your mind and make you feel cool and comfortable.
Keep you cool with the help of fans, ACs, and cool baths or showers. Keep shades or curtains pulled on the sunny side of the house.
Spend your spare time in some park or garden under a tree. This will make you feel relaxed and refreshed. In addition to that, your electricity bill will also be saved.
Open your window at night and let the fresh air enter your room as the environment is much cooler outside in the night.
Avoid going to sun unless necessary especially between 1PM to 4 PM. If you are walking in sun take some rest after regular interval under some tree or somewhere as walking under sun in hot climate may cause excessive sweating. In addition to that, try to cover your skin with clothes as far as possible to avoid skin burn.