Lady Gaga wears veil to mourn world's problems
New Delhi, Mon, 26 Mar 2012
NI Wire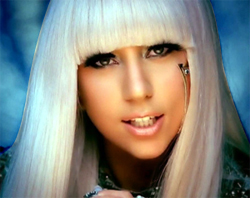 And now Lady Gaga has unveiled the secrets of her veil saying she wears a veil as she is continuously mourning the world's problems.
The 'Born This Way' singer is often photographed covering her face by a dark mesh- conventionally worn by women who have recently lost their loved ones in many cultures in different parts of the world.
"People ask me why I wear veils. I reply, I'm mourning. Mourning what? Well I figure something sh***y must be going on somewhere," Contactmusic has quoted her as tweeting.
The singing diva set up the not-for-profit group - in association with groups including the John D and Catherine T MacArthur Foundation and the Berkman Center for Internet and Society at Harvard University - to help people around the world develop a new standard of care towards each other.
"Together we hope to establish a standard of bravery and kindness, as well as a community worldwide that protects and nurtures others in the face of bullying and abandonment," she has been quoted as saying.
The 'You and I' singer is now gearing up for the launch of her 'Born This Way Ball' world tour that begins at the end of next month in Seoul, South Korea.
--with inputs from ANI