Odisha abduction crisis: Talks likely to resumes soon between Govt and Maoist
Bhubaneshwar, Mon, 26 Mar 2012
NI Wire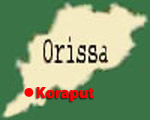 As the Maoists set free to 61-year old Italian Tourist Paolo Bosusco, the government is looking for further beginning the talks with Maoists who are still holding one Italian tourist operator and one legislator of Koraput.
The release of Bosusco has paved the way to begin the third round of negotiation, which had become worse when Maoists had abducted Koraput legislator Jhina Hakika on March 23 without releasing Bosusco and Claudio Colangelo (54).
The government had projected two interlocutors - BD Sharma and Dandapani Mohanty for safely and securely release of hostages, who later denied to initiate talks after Hikaka's deprivation.
Now, sources say that mediators have become ready to resume the talks after releasing one hostage.
According to one of the interlocutors, Maoists have cut most of their demands and have only three demands including releasing of Maoists leaders.
Maoists top Odishan leader Sabyasachi Panda's wife Subhashree Panda is also in police custody whose release is also included in Panda's demand. Moreover, Maoists are also demanding to stop operation 'green hunt', government's suppression policy against Maoist and the third one is to ban the visiting of tourists in tribal areas.
Sabyasachi Panda in a message said, "We abducted the foreign tourists to send a message to the government that tribals are not monkeys that anyone can come and watch them."
According to Odian police, "Italian abduction said that the other Maoist faction is yet to place their demand for the release of Hikaka. Mohanty added that they wanted to get over with the process of negotiation for the release of Bosusco as soon as possible."