Immunized chicken can fight food-borne diseases
New Delhi, Mon, 26 Mar 2012
NI Wire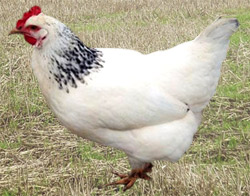 Vaccinating chickens against the bug C. jejuni can bring down the incidence of food poisoning.
Moreover, if poultry infected with C. jejuni bug is not cooked in a proper way, these bugs can get transmitted to human body an can cause cause severe gastro-intestinal infections.
It is to be noted that, according to a data of 2009, C. jejuni is the leading cause of more than 371,000 estimated cases of food borne illness in the UK resulting in more than 17,500 hospitalizations and 88 deaths.
The bug is present in the gut of several animals and in chickens too. Scientists at Washington State University are trying to study the maternal antibodies that are inherited to the chicks from hens.
"These antibodies protect chicks from becoming colonized by Campylobacter in the first week of life," explained Michael Konkel, professor, who is leading the research, according to a Washington statement.
"Our group has now identified the bacterial molecules that these antibodies attack, which has given us a starting point for a vaccine against Campylobacter," he said.
"We have already found that chickens injected with these specific molecules--found on the surface of Campylobacter jejuni - produce antibodies against the bacterium. This response partially protects them from colonization," added Konkel.
The details of the findings were presented at Society for General Microbiology's Spring Conference in Dublin.