Army Chief's Bribery case: Antony orders CBI probe
New Delhi, Mon, 26 Mar 2012
NI Wire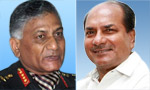 Defence Minister A K Antony has ordered a Central Bureau of Investigation's (CBI's) probe to find out the ground reality of Army Chief's allegations of offering him (General V K Singh) a bribe of Rs. 14-crore from an equipment lobbyist for clearing the purchase of 600 substandard vehicles.
Both houses of Parliament were disturbed and Members of opposition created uproar in the houses over the published interview of General Singh in 'The Hindu', a leading daily newspaper today, which led the speakers to adjourn the houses till the afternoon.
The opposition leaders were demanding to explore the truth of Army Chief's allegation.
"What General VK Singh has said is a serious matter," said Bhartiya Janta Party (BJP) leader Prakash Javdekar by adding that things were fast unravelling and soon the mastermind of this drama would come out.
Defence Minister A K Antony on Monday immediately ordered a CBI probe to reveal the truth.
Earlier, Army Chief General V K Singh, in an interview has claimed that he was offered a bribe of Rs 14 crore for clearing the purchase of 600 substandard vehicles and he had acknowledged Defence Minister in this regard.
"One of these men had the gumption to walk up to me and tell me that if I cleared the tranche, he would give me Rs 14 crore. He was offering a bribe to me, to the Army Chief. He told me that people had taken money before me and they will take money after me," Singh said in the interview.
He also claimed that 7,000 of those of which were already in use in the Army had been sold over the years at exorbitant prices.