Anna returns with another fast at Jantar Mantar
New Delhi, Sun, 25 Mar 2012
NI Wire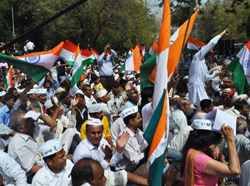 Anna Hazaare has started his fast at Jantar Mantar with the same pace, which has seen earlier here. As soon as he reached Jantar Mantar from Rajghat after paying homage to Mahatma Gandhi, massive crowd was present for the support of Anna Hazare. He reached about 11 am on Jantar Mantar and loud cheers from tricolour-wielding anti-corruption supporters and chants of 'Vande Mataram' and ' 'Bharat Mata ki Jai'
This is the first time that Anna hazare has demanded to take action against those whistleblowers who sacrifice their lives in the fight against corruption but govt. is doing nothing for their justice.
Before starting his fast on Jantar Mantar, Anna said that many people have sacrifice their lives in fighting against corruption but govt. has done nothing. Their parents and family members are trying for justice but govt. has become dumb and deaf.
He warned that now there is a need for big struggle so that govt. can listen our voice.
Anna hazare has invited some of the family members of those whistleblowers who have sacrificed their lives during fighting against corruption.
In the morning session the large number of crowd were present and it seems that it will be on rise till the evening.